CHUNGWOO Contlex HIFU High Focused Ultrasound
CHUNGWOO Contlex HIFU machine, a high-intensity Focused Ultrasound for Non-invasive facelift.
Info about products and orders Tel: 0039 051 0395855 Whatsapp: 0039 342 7089807

EU VAT number owner? Sign up as a company and you will not pay Italian 22% VAT

Are you a reseller? Contact us for a special price list email: shop@bioskin.it
CHUNGWOO Contlex HIFU machine, a high-intensity Focused Ultrasound for Non-invasive facelift.

The transducer (handful) of Contlex HIFU emits high-intensity ultrasound that penetrates the treated area to the depth of choice, with geometric precision. Focused ultrasound induced thermal coagulation to 4 different depths of the skin and connective tissue. The thermal coagulation promotes the formation of new collagen fibers and the end result is a non-invasive lifting effect.

Each fixture Contlex HIFU has four different cartridges for proper treatment at three depths:

- Superficial dermis (1.5mm) - Skin Toning  Lentigo, Skin Rejuvenation, Acne, Large Pores
- Derma Deep (3mm) - Wrinkles, nose area - sores, Lifting eye area
- Connective tissues (SMAS) (4.5mm) - Lifting


Each cartridge allows the treatment of different areas and different diseases.

Focused ultrasound penetrate the treated area and induce coagulation (tissue heating up to 65-70 degrees) exclusively to the focal length range. There is no thermal damage in adjacent areas and no skin surface damage. The handpiece with four interchangeable cartridges allow to vary between multiple types of treatment.

Data sheet
Device Type

High Focused Ultrasound

Emitted Wavelenght

7Mhz, 4Mhz

Pulse Type

Focused Ultrasound

Transmittion Medium

N.2 Handpieces

Pulse Energy

0,1-1,0 J

Treated Area

5-25mm Rows

User Interface

LCD Display Touchscreen

Power Specifications

AC 230V, 50/60Hz

CE Certification:

Yes

Height

90

Depth

53

Width

32

Weight

34 Kg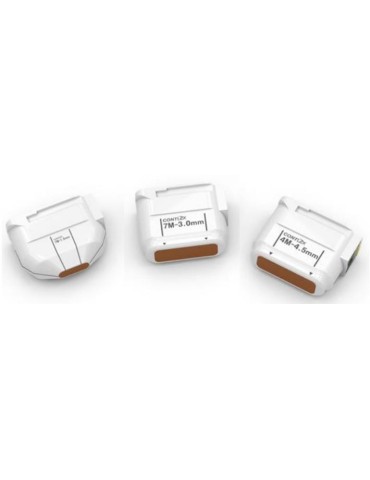 Price
€2,440.00
€2,000.00 VAT Excl.
Spare cartridges for Contlex HIFU manufactured by Chungwoo.