Classys Ultraformer III High Focused Ultrasound System
Classys Ultraformer III High Focused Ultrasound HIFU for the non-invasive facelift and the the entire body lifting.

Ultraformer III is the first high focused ultrasound machine certified for the treatments on the whole body.
Classys Ultraformer III Focused Ultrasound (HIFU) machine is the latest generation of non-invasive lifting for the face, neck, and body.

- Quick Treatments: ability to use two handpieces at the same time
- Better Results: the energy of each pulse of 300% higher than the previous version
- Reduced costs for treatment: up to 30,000 shots per cartridge
- HIFU Treatments on Body: Ultraformer III is the first high focused ultrasound machine certified for body treatment

The transducer (cartridge handpiece) of Ultraformer III HIFU emits high-intensity ultrasound to penetrate the treated area at the desired depth range, with geometric precision. Focused ultrasound induce thermal coagulation at different depths of the skin, connective tissue and fat layers. The thermal coagulation promotes fat layer's melting and the formation of new collagen fibers and the whole results in a lifting effect non-invasive.
Each device Ultraformer III features three different cartridges for proper treatment at three different depths of action, for the treatment of facial area:
- Derma surface (1.5mm) - Acne, Dilated Pores Skin Toning Freckles, Skin Rejuvenation
- Derma Deep (3mm) - Lifting eye area wrinkles nose area - sores
- Connective tissues (SMAS) (4,5mm) - Lifting Generic

Ultraformer III is also equipped with two additional cartridges, 6mm and 9mm for the treatment of localized fat deposits in the body.
Each cartridge allows the treatment of different areas and different pathologies:
Focused ultrasound penetrate the treated area and induce coagulation (tissue heating up to 65-70 degrees) exclusively on the focal length chosen. There is no thermal damage in adjacent areas. The two independent handpieces and the three interchangeable cartridges high ultrasonic frequency (7MHz, 2MHz and 4MHz) allow to vary between multiple types of treatment.
WATCH THE ULTRAFORMER II PRESENTATION:

Data sheet
Device Type

High Focused Ultrasound

Emitted Wavelenght

7Mhz, 4Mhz, 2MHz

Pulse Type

Focused Ultrasound

Transmittion Medium

N.2 Handpieces

Pulse Energy

0,1-3,0 J

Treated Area

5-25mm Rows (5mm steps)

User Interface

LCD Display Touchscreen

Power Specifications

AC 230V, 50/60Hz

CE Certification:

Yes

Height

130

Depth

51

Width

50

Weight

35 Kg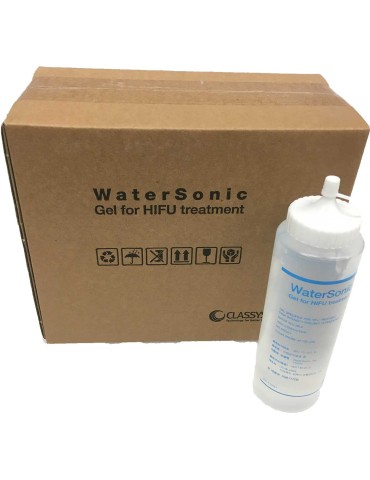 Price
€180.56
€148.00 VAT Excl.
Ultrasound based treaments gel.Box of 8 pieces.